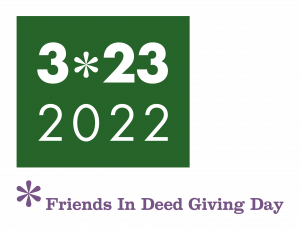 Get ready! The entire Friends In Deed community is coming together to make an impact that can transform the lives of our neighbors who need us most.
We proudly introduce Friends In Deed Giving Day to bring all of our advocate support together on March 23, 2022. From Board members and businesses to friends and program supporters, we call on each and every member of our Friends In Deed family to come together for this cause. Our Giving Day goal? We are aiming for at least 128 donors in just 24 hours, a nod toward our 128 years of providing supportive services in the local Pasadena area.
Friends In Deed provides food, temporary bad weather shelter, monthly rental assistance, showers and laundry services for women, and general help to our neighbors in need, all through compassion, connection, and dignity. For 128 years, we have been able to provide for this community because of the generous support of donors like you. Not only do your donations sustain our daily activities, they allow us to plan for and build our future to help folks for years to come.
We are hoping you will invest in our community by making a gift to Friends In Deed on 3/23. You can make your gift online now. You can also bring your donation in-person on Giving Day to FID House between 3:00-5:30pm at 444 E. Washington Blvd.
Be sure to follow along on social media as we race toward our goal. And when we reach 128 donors, the Lawrence A. Appley Foundation has agreed to donate $25,000 toward our cause! 
Every donation matters, no matter the size. Join us as we all come together in making a huge impact for our community in just one day.
Thank you for your continued support of Friends In Deed.