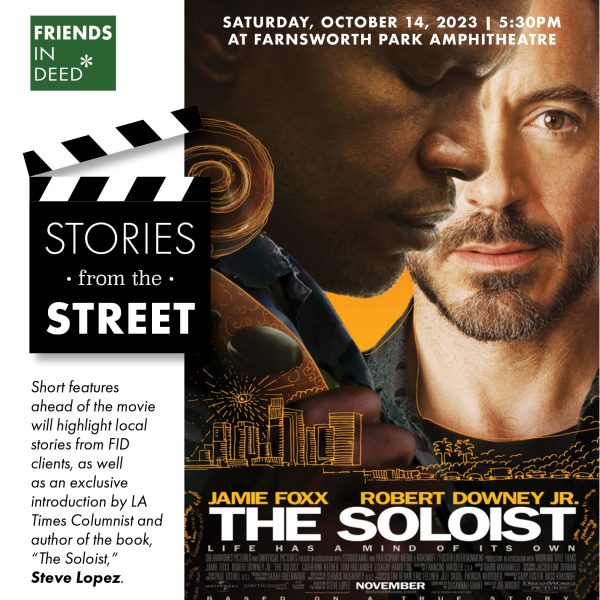 Experience an unforgettable night under the stars at Friends In Deed's outdoor movie night fundraiser, featuring The Soloist on Saturday, October 14 at 5:30pm. Click here to watch the trailer.
Admission is donation-based. We hope you will consider donating what you might pay if going out to the movies. Event sponsorship opportunities are also available for purchase, and there will be a silent auction, too! 
Support our fundraiser, come enjoy a movie, and walk away with a little more awareness around homelessness. Join in making a positive impact and enjoying a night of entertainment!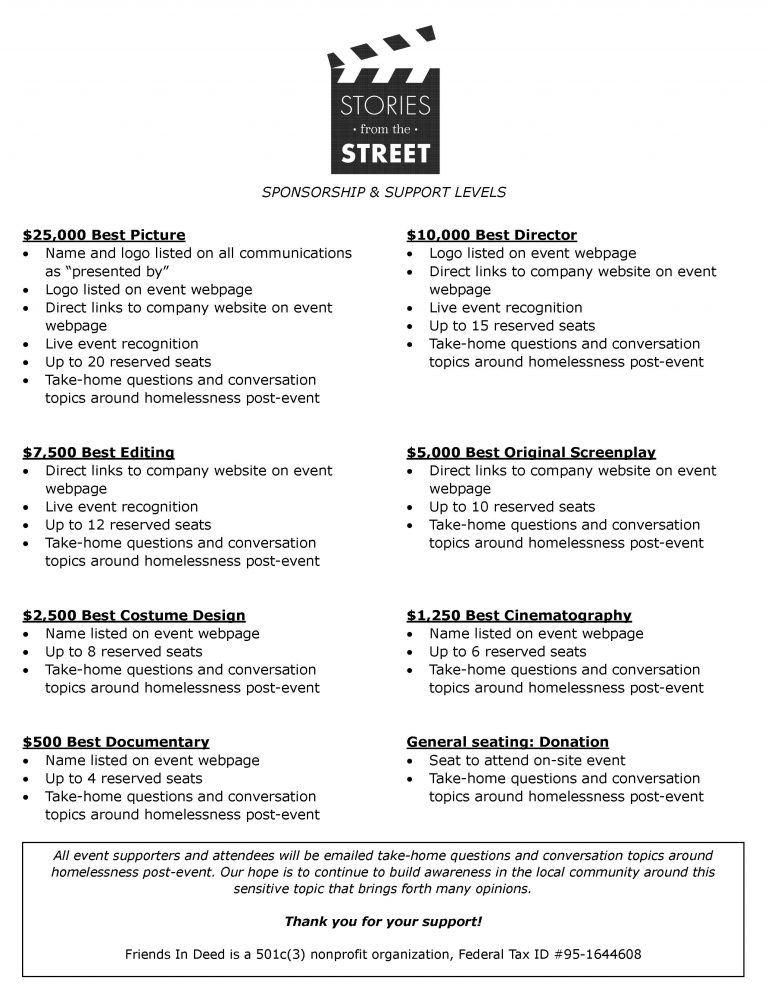 We are incredibly grateful to our 2023 Stories from the Street Sponsors
(updated as of 10/13/23)
Best Picture
Barbara Levinson
Best Director
Ellen and Harvey Knell
Mark and Arleen Segal
Best Editing
Celia Leaver
Best Original Screenplay
Supervisor Kathryn Barger
Ben and Mishele Myers
Vicki Thompson
Best Costume Design
Dan and Sandy Bane
Lisa and Bradford Freer
Susan and Oliver Stark
Jennifer and John Robinson
Elizabeth and David Thompson
Scott Unger
Best Cinematography
Susan Auerbach and Bryan Langholtz
Matt Berry and Patty Lyons
Congresswoman Judy Chu
Russ Ferrante and Gerry Puhara
Donald and Meg Gertmenian
Theodore and Gail Gunther
Nancy Neal
Pasadena Presbyterian Church
Bret and Peggy Schaefer
Lana and Andy Slavitt
Betsey Tyler
Best Documentary
Jared Becker and Maureen McGrath
Kevin Bourland
Bonnie Buratti and Kai Lam
Richard S. Cheung, D.C., ATC
Barbara Felsinger and Lawrence Teitelbaum
First Congregational Church of Pasadena
First United Methodist Church of Pasadena
Ann Fossan
Gamble Jones Investment / Cerity Partners
Mark Goldstein and Pam Marx
Harvest Rock Church
Marguerite Hougasian
Howard and Betsy Kahn
Learning Works Charter School
Michael Ostroff and Joanne Topol
Lynn Rabin
Rotary Club of Altadena
Debby and Jack Singer
Gail and David Snyder
Daniel and Jules Stover
St. Elizabeth Catholic Church
Barton Wald
Leslie and John White
Louise Yount