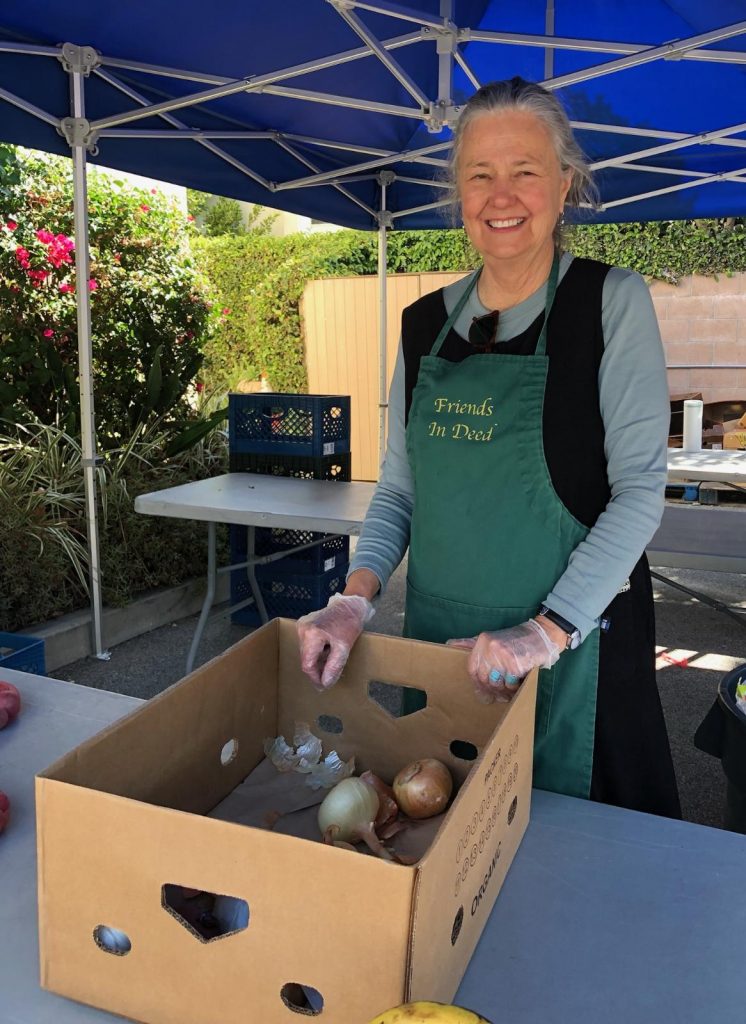 As a long-time volunteer in the Food Pantry, Elaine has seen a lot of changes. She remembers when money was desperately tight, when we relied on volunteers' own cars for picking up bulk food donations, and when Tim had to rush out to buy the cheapest possible hotdogs just so we would have some kind of protein to put in people's shopping bags. She remembers some of the funky donations we used to get – an enormous bag of chicken that had been allowed to defrost by the donor and had to be distributed in record time because its safe shelf life was so short, and rotten potatoes that had to be weeded out before the produce could be put on the shelves.
Things are very different now. We have our own refrigerated truck, we are always able to offer a healthy selection of produce and protein, and the landscaping around our building gives the pantry a coffee-shop vibe.
But some things have remained the same. Eileen says it's a "real pleasure" to be part of Friends In Deed, and that's something we have heard many volunteers say, and it is dear to our hearts. Elaine sees herself as a behind-the-scenes kind of person, and, as such, works with other volunteers far more than she does with clients. She is always impressed with the adaptability and good-spiritedness of our volunteers, who coped with all the changes brought by COVID-19, and who cheerfully get on with their work even when the weather is boiling hot or miserably cold and wet.
Elaine will go out of her way to arrange her schedule so she never misses her shift at FID, and that attitude is shared by many of our volunteers. There is absolutely no way we could do as much as we do without the small army of volunteers who dependably and cheerfully join us on a regular basis to "do together what we cannot do alone." Thank you all!