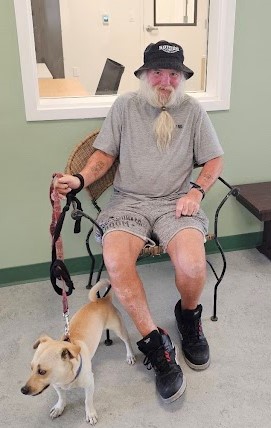 Jerry – a senior with a heart condition and a hearing impairment – had experienced homelessness for over 20 years. Originally from Tennessee, he has lived all around the greater Los Angeles area and could often be found panhandling outside Cheesecake Factory in Pasadena with his dog, Spot. The bond between Jerry and Spot is very strong – Jerry will go nowhere without Spot, and Spot is very protective of Jerry. This can sometimes become a problem – Jerry's deafness often means you have to talk very loudly, and if Spot thinks you're yelling at Jerry he will react with equal aggression!
FID was actually successful in getting a housing opportunity for Jerry some years ago, but his life was threatened by another person on the streets and he disappeared from view. We heard nothing more until our office recently received a phone call from a hospital in Santa Monica – Jerry had told them he had a caseworker at Friends In Deed.
We did not manage to catch up with Jerry in the hospital, but a few days later we heard that a manager of a Santa Monica motel was letting Jerry stay there while he recuperated. Street Outreach and Housing team members Najwa and William (with some disregard for our usual policies about time management!) went rushing over to Santa Monica, but missed him by only a few hours.
Najwa then put out an alert at the Pasadena Collaborative Outreach Meeting – if anyone saw Jerry, could they let us know? Within a few days we heard that he was back at his old pitch, outside the Cheesecake Factory. Once again the FID team rushed out to make contact, and this time they were successful!
We were able to put Jerry back in our Pathways program and in a motel while we worked on setting him up with a new housing opportunity. As if his story wasn't enough of a rollercoaster already, this was not an easy process! Jerry was matched with a place and given a move-in date, but it fell through at short notice, and he was devastated. He had been waiting outside his motel, bags packed and ready, since 8am – for a 3:30pm move in. 
Najwa advocated forcefully for him (you could hear the phone call across the whole office) and soon after he was matched with an ADA compliant unit at the new Salvation Army Hope Center in Pasadena.