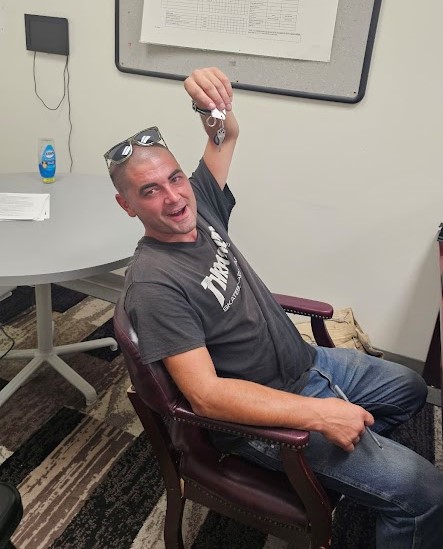 Richard was living on and off the streets for 15 years. Sometimes he managed to find seasonal work, and sometimes housing, but never anything permanent.
One wet and miserable night he was getting a meal at Pasadena Presbyterian Church when he was told that the church across the road had access to motel rooms during the inclement weather. This, of course, was FID's Bad Weather Supplies distribution at First United Methodist Church. Richard got in line, and was very happy to not just get a motel room, but also clean, dry socks!
Richard was open to working with FID's Street Outreach and Housing team, and they swung into action. They put in a referral to Union Station Homeless Services to work with Richard to help him get back into employment, and FID team members Olivia and Najwa began working with him to get him into housing. It greatly helped the process that Richard was able to provide all the right documentation and was clearly dedicated to seeing everything through. 
Recently, Richard was given the keys to his own room in supportive housing. As he was handed the keys, the manager of the facility said "welcome home" – the first time in many years, says Richard, that anyone has said that to him. It's been a game changer. He can lock the door and feel safe, he can take showers whenever he needs them, use the bathroom without having to buy a sandwich in a restaurant first, and he doesn't have to worry about where to charge his phone. Most of all, he can make plans for what he's going to do for the day, and then think "… and then I'll go home."