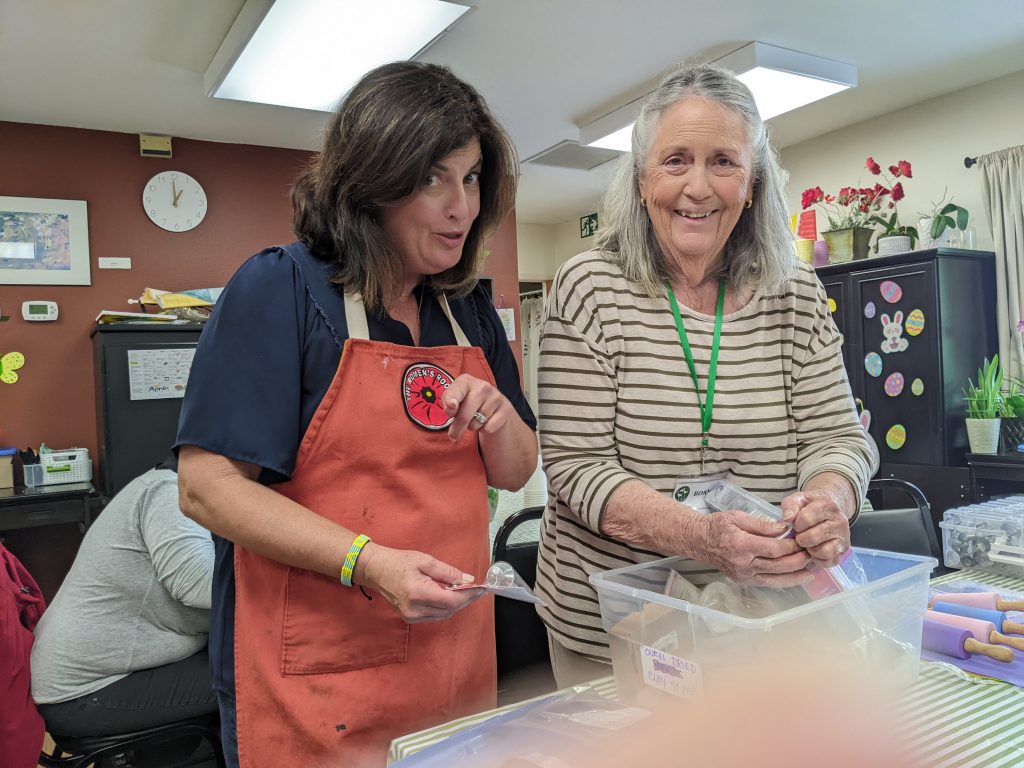 Bonnie and Rose are a mother and daughter team who have been volunteering together at Friends In Deed for about four months. They had been looking for a way to give back to the community and had tried a number of places, but felt that the fit wasn't right and they weren't really needed. Then they came to The Women's Room at Friends In Deed and loved it!
As a ceramicist, Bonnie takes the lead in organizing craft activities for our guests. They have done Christmas and Easter-themed crafts, but an enduring favorite is polymer clay from which they make beautiful jewelry and other objects. Bonnie and Rose supply all the materials and even brought in a small convection oven in which to cure the clay. Our ladies love to make gifts for their friends and families!
Both Bonnie and Rose say they have developed strong bonds with our guests. They are certainly not afraid to put in the effort to develop those relationships – Bonnie tells a story about one of the ladies who seemed to take a violent dislike to her. After a few weeks of treading carefully, Bonnie managed to persuade the guest to tell her why. Apparently Bonnie reminded the guest of her own mother, with whom she had had a very poor relationship. Bonnie was able to point to Rose and tell the guest that Rose was her daughter, with whom she had a very good relationship. Somehow this prompted a breakthrough, and the day ended with hugging and crying!
Rose says that The Women's Room "makes you see yourself for who you are." The duo brings compassion, kindness, and open-mindedness to TWR and we are grateful to them for it.