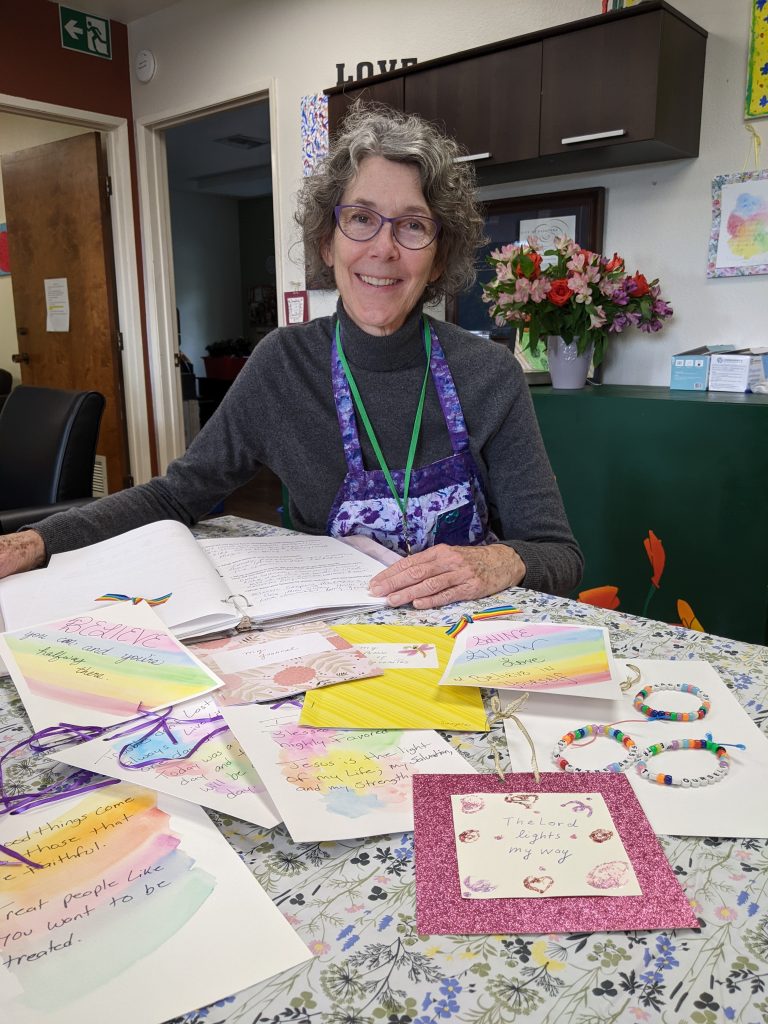 Before volunteering at Friends In Deed, Lisa worked in public relations at the Huntington Library. After she retired, she felt that her ability with words could find a use at Friends In Deed – and they did! Lisa runs workshops with our guests in The Women's Room in which she uses the mediums of art, writing, and crafts to foster self-expression.
The picture shows Lisa with some of the pieces created by our ladies – you can see how beautiful their work is! Lisa says that often our guests don't believe they have anything to express, and are genuinely surprised and thrilled when they find they do. She tells the story of one guest who didn't like the day's activity. They were writing poems about Halloween, and this lady didn't like Halloween and didn't want to write about it. Lisa gently encouraged her to think about the project from a different perspective, and the guest went on to write a lovely poem about why she prefers Christmas to Halloween. Our guest was stunned to discover that the feelings she had were "worthy" of being expressed in poetry.
Often Lisa finds her workshop attendees are resistant to the ideas she brings – because they tap into things that are too private or too personal. But, with time and exposure, those barriers are overcome, and she finds our guests use the projects to explore all sorts of feelings. Sadness may be a theme, but Lisa says the guest often seems to feel better afterwards. The ladies love to explore nostalgia – remembering, perhaps, past days when things were better for them – but they also love to express gratitude and joy.